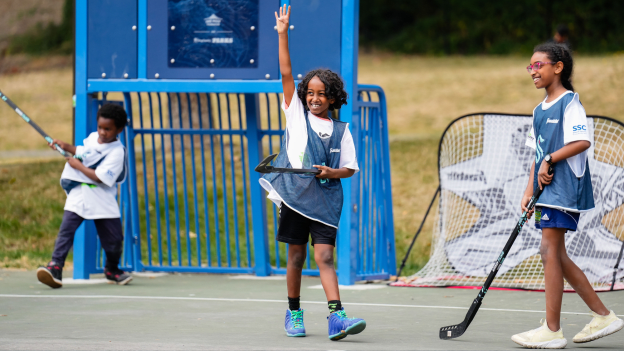 The Kraken and One Roof Foundation joining other local pro teams and the Seattle Sports Commission Foundation to advance play equity in King County – By Bob Condor @ByBobCondor nhl.com/kraken
All kids want to play, but not all kids get to play. Increasingly, youth participation in sports in our region is determined by how much their parents earn, where they live, and the primary language they speak at home. The Seattle Kraken and its affiliated nonprofit, One Roof Foundation, are working to reverse that trend so that all young people can enjoy the many benefits of sport and play.
To that end, One Roof Foundation is thrilled to help launch a new major initiative to advance play equity for youth across King County. In an unprecedented show of solidarity, Seattle's professional sports teams and the Seattle Sports Commission Foundation are coming together to form "The Seattle Alliance for Play Equity" to contribute $500,000 to the King County Play Equity Commission (KCPEC) over the next four years. The formation of the Seattle Alliance demonstrates the partners' shared commitment to play equity as well as their recognition of the critical role KCPEC serves in advancing this work in our region.
KCPEC organically evolved out of a 2019 research study that examined inequities in youth access to sport and play. In four short years, it now includes over 100 nonprofit members and has become the regional subject matter expert and lead advocate and convener in the youth play equity movement. But it remains a largely volunteer-run organization, which limits its impact. The catalytic Seattle Alliance funding will empower KCPEC to chart a course toward self-sustainability and long-term systems change.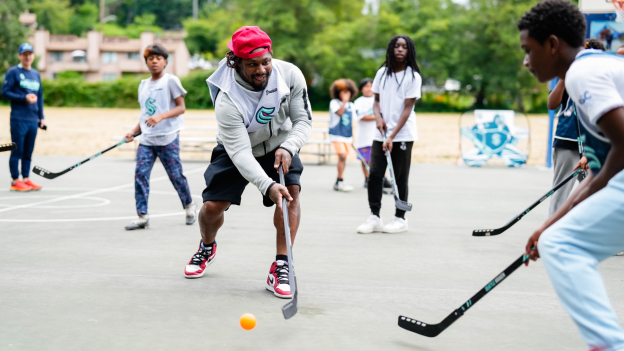 Mari Horita, Kraken SVP of Social Impact & Government Relations, and Executive Director of One Roof Foundation, was introduced to KCPEC in 2019.
"Before the Kraken were the Kraken and before we formed One Roof Foundation, we knew that we wanted to increase access to and representation in youth hockey," Horita stated. "I was introduced to Julie McCleery, who was developing the King County Play Equity Report as a joint publication between the University of Washington and the Aspen Institute. The report showed not only the inequities in youth access to sports but explained why the inequities exist and how we can help eliminate them. Julie and her team at KCPEC have been important partners from the start and we are thrilled to help significantly increase their organizational capacity and impact."
McCleery, founder of KCPEC and a Director at the Center for Leadership in Athletics at the University of Washington spoke to the important partnership between the Kraken and KCPEC.
"The King County Play Equity Coalition and the Kraken/One Roof Foundation have grown up together. Over the last four years, we've supported each other to achieve our shared goal of providing more access to sports and play for youth in this region.
"It's been inspiring to watch the Kraken use our research to provide the kind of targeted programming and investments that have introduced thousands of kids to ice hockey who might not have tried it otherwise. (The Kraken's) belief in our work has been equally inspiring, and we're so thankful for not just their financial investment but their deep engagement on our leadership team and their commitment to our growth. Together, we're just getting started on making sure all youth in King County can enjoy the transformative benefits of sport, play, and movement. "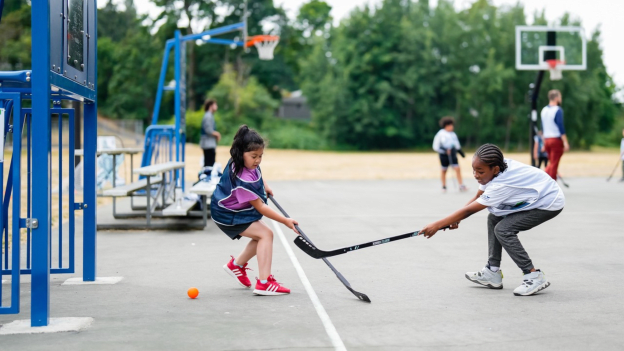 McCleery further expressed her excitement about the creation of the Seattle Alliance by the local teams. Having the involvement of pro sports organizations is "game changing," she said not just because of their financial contributions, but also because the recognition of inequities that currently exist shines a spotlight on where change can occur.
"Youth sport has become exclusive – a generation of kids are getting left behind by exorbitant cost, travel, limited fields and facilities," McCleery said. "This has implications for the health of sports and the health of our kids and communities. Through this investment, the Seattle Alliance has decided it's time to reverse this troubling trend. We are excited to work with them on the systemic change that is needed to ensure true play equity. "
Horita noted that the decision to create the Seattle Alliance was an easy one.
"Our region is fortunate to have professional sports teams that share the commitment to make sport and play more accessible for all young people," Horita said. "We looked around the country at other examples of collective impact, like the LA Alliance, and very quickly coalesced around this idea to come together in support of KCPEC. Everyone: the teams, the community, KCPEC, and our youth benefit by our joining forces and resources."
In addition to One Roof Foundation and the Kraken, The Alliance Seattle includes the Seattle Sports Commission Foundation, Sounders FC and RAVE Foundation, Mariners and Mariners Care, Seahawks, Storm, OL Reign, Seattle Tempest and Cascades, and the Seattle Seawolves.