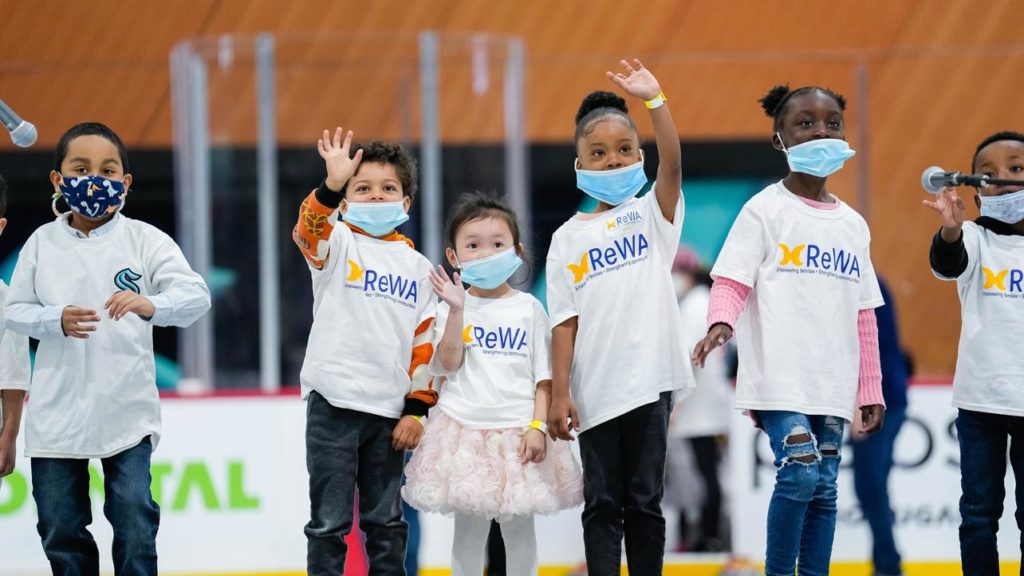 Three classes from Refugee Women's Alliance began learning to skate at Kraken Community Iceplex in October. This week, the 3- to 5-year-old skaters graduated and celebrated — by Bob Condor
The cheerful din at the NHL team's practice rink at Kraken Community Iceplex started long before gaggles of pre-kindergarten children, ages 3 to 5, skated and sang and stomped and waved from the ice to family members and dignitaries in the 1,000-seat stands during a "Moving Up Celebration" staged by ReWA (Refugee Women's Alliance). The kids were excited, moms and dads beaming, siblings on hand to cheer sisters and brothers.
Holding graduation for ReWA classes from Lake City, Rainer Beach and Beacon Hill was fitting, since 58 students from selected classrooms in the three locations participated in a 32-week learn-to-skate program created by an alliance among ReWA and One Roof Foundation, the philanthropic arm of the Seattle Kraken and Climate Pledge Arena.
Each week on Wednesday mornings, the kids arrived by bus from the ReWA early childhood centers and each went home better skaters and clearly even more delighted than the previous Wednesday. That happy factor was vital in early weeks since even Hall of Fame hockey players admit to maybe not loving falling on cold ice (something the kids are taught right away how to do safely) or feeling the tug on ankles from the new motion of skating.
"Our goal was not just to teach skating," said Chad Goodwin, lead instructor for the Kraken's learn-to-skate program. "We wanted this program to be a safe place for the students, with hugs and high fives and encouragement."
Goodwin made his remarks to the supportive crowd before the ReWA skaters demonstrated their skills and after Seattle City Council President Debora Juarez (5th District includes the Northgate neighborhood) addressed the families.
"Well done parents!" said Juarez, who stayed for the entire ceremony of a Seattle Lion Dance performance, speeches, skating demonstrations and a group song from each of the graduating classes (the latter included some world-class rhythmic stomping). "This is what community is all about … This program is a best example of how the One Roof Foundation and the Kraken are showing community … Two more schools will be coming online [for the ReWA/One Roof program]."
ReWA is a Seattle-based nonprofit, multi-ethnic organization that provides holistic services in more than 50 languages and dialects to help refugee and immigrant women and families stabilize and thrive. The concept is to promote inclusion, independence and equal access – in this case to skating and hockey – while respecting cultural values. The approach is effective in understanding unique barriers to success for client women and families and provides a "home base" of support and outreach.
The festivities included a rolling photo and video show on the Starbucks Rink jumbo video scoreboard. There were dozens of happy photos of ReWA classrooms plus "player profiles" of kids in the program. Some big-board answers from learn-to-skate students when asked about favorite things about the skating program and the Kraken:
"I like hockey."
"Skating with my friends."
"I like to play with the [orange directional] cones."
"Skating fast."
"I like skating going really really really fast."
"Ice skating coach"
"I liked skating with the bubbles."
"I like taking the bus."
"The coach is fun."
All of the skating demonstrations showed marked improvement from early weeks when teachers talked about kids still getting used to stepping out on the ice. No such issues last Wednesday.
When the Rainer Beach kids skated out for their demonstration, Namruv Freweyni was a front-runner. His mother, Araya, was filming her son on her phone and smiling from ear to ear.
"Right from the start, Namruv has been excited to come to skate," said Araya Freweyni, who is from the Tigray region of Ethiopia, a part of that country facing dire conditions. "He never stopped loving it for one second. He would say to me all the time, 'I need to skate' and that he wanted to come skate even without the class."
One distinctive feature of the ReWA-One Roof collaboration is there is a proposed three-year plan. Each season, 60 new kids are planned to participate. This season's group will move on to hockey or figure skating programs at Kraken Community Iceplex during years two and three. The concept is to create "champion" hockey players and skaters along with children who grow up healthier and better prepared to be good leaders and teammates/co-workers as adults.
"The majority of skaters and ice hockey participants start skating at age 3, 4, or 5," said Kyle Boyd, Director of Fan Engagement. "This program is designed to establish greater equity by providing that same opportunity to kids from diverse and low-income families.
"There's no catching up at older ages. Our goal is to make sure we have an inclusive and equitable ice sport community from the beginning of the participant journey."